Raise a Glass,
And Head Bearing West!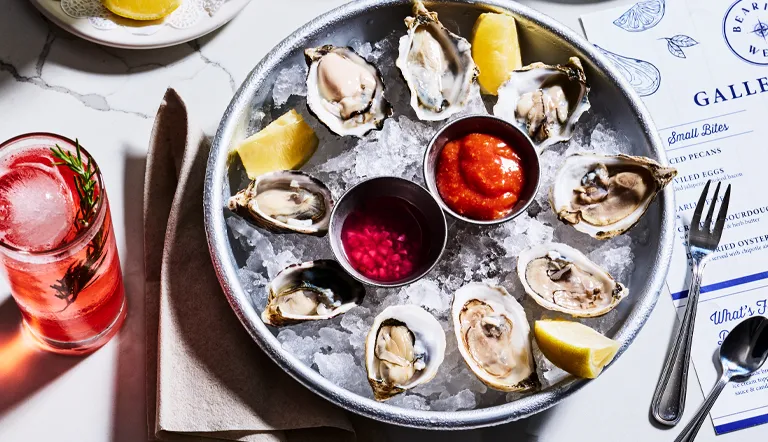 Glass of Sangria
Red and White wine infused with apple, citrus, and spice
  Oysters on the Half Shell
Served with pink peppercorn mignonette, classic cocktail sauce, and lemon
  Oyster Shooters
Fresh Oysters with house-made Sangrita
Keep it Classy
 Happy Hour
Tues-Friday | 4:00p – 6:00p

$2 Off Select Drinks
Well spirits, Beer on tap, Wine by the glass (Chardonnay & Malbec)
$5 Glass | $20 Bottle Sangria
Red and White wine infused with apple, citrus, and spice
$5 Snacks
Deviled Eggs, French Fries, Spiced Pecans, and Griddled Sourdough with roasted garlic herb butter, and Crispy Chicken Wings with Mango Habanero sauce or Buffalo Sauce
$3 Spicy Oyster Shooters
Fresh Oyster with house-made Sangrita. Add Vodka $5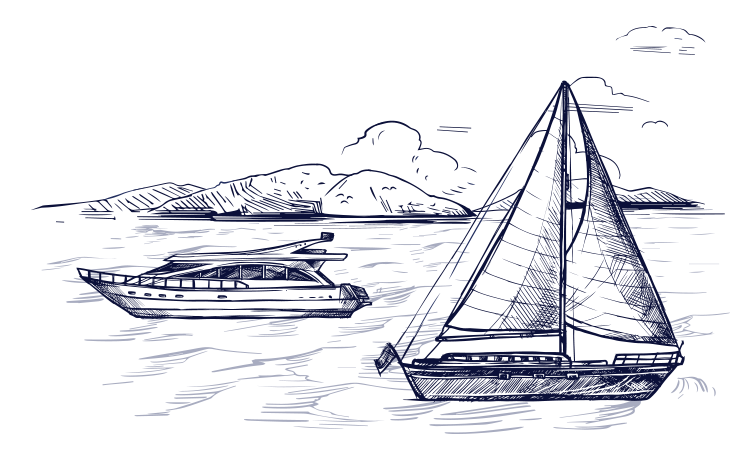 HOURS OF OPERATION
Tues – Sat
4:00pm – 10:00pm
Closed Mon
Temporarily Closed Sunday  *Construction*
Classic Cocktails and Boat Drinks

Local Beers Family-Owned Wineries

Highly-skilled Bartenders

• Fresh Fish and Oysters
• Tasty Snacks
• Soups Salads Sandos
• Cioppino!
Charter Reservations
6 Sailors or More
What Our Guests Are Saying!

Lovely neighborhood restaurant with good wine selection and nice cocktails. Seafood tasted fresh and delicious. The vibe is really friendly and welcoming - a great hang out spot!
Geoffrey Iwata
2023-05-02
Happened to walk by during their soft opening and had a snack with a cocktail. Since then I've been back for their clam chowder. The chowder was heavenly and I also loved the cocktail I had. The presentation was so beautiful with an orchid on the glass. Service was good! Both times there was a lively atmosphere with folks at tables and at the bar. They also have screens for watching games on tv, caught a Warriors game there.
Good beer on tap and tasty food!
Came in on a friends recommendation for good oysters and I was not disappointed. Everything we had was delicious. The cocktails were perfectly crafted and well balanced, the food was very fresh, and the service was fabulous. The Baja fish tacos were great, clams were wonderful, but I'll be coming back for those fresh oysters for sure! Highly recommend and will definitely be returning!
Great to have this seafood spot on the west side of town! Food and Drinks: All tasty. We especially loved their take on the clam chowder (our new favorite chowder?). The oysters were super fresh, and the cocktails, fish tacos and deviled eggs were nice too! Service: A+! Our server was friendly, responsive, and attentive. The rest of the staff was also warm and welcoming when we came in. Ambiance: Casual updated chowder house/ocean vibe. We walked in around 5:30pm on a Thursday and by the time we left, the front room was full and bustling. We'll be back and have already recommended it to some friends who live a few blocks away 🙂
Love the neighborhood vibe, decor and drink/eats menu. Deviled eggs delish and seafood fresh. Excellent service with personal touch. Another great addition to the Sunset and sure to be local fixture.
Heather Jackson
2023-04-07
Excellent food, excellent service, superb seafood!! Jonathan and Jeff are great! I'm so happy to have another amazing food spot on Taraval. The Sunset is really the #1 neighborhood with the best restaurant gems in SF.